Frequently Asked Questions
If you get this error when installing the Mac version of pixeLoom, follow these instructions to allow the installation to proceed.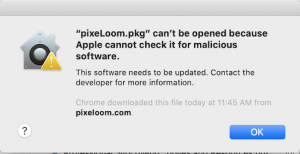 Click OK to close the error window.
Open System Preferences from the Apple menu, and then open the Security & Privacy page. 
At the bottom of the Security & Privacy page, in the 'Allow apps to be downloaded from' section, pixeLoom.pkg should be listed. (If it isn't, close the original error window and come back to this page.)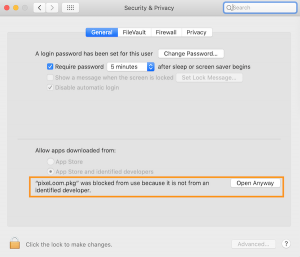 To proceed with the installation, click the Open Anyway button associated with pixeLoom.pkg (highlighted above). 
For users with Windows version 8.0.2 or greater, or Mac version 4.0.1 or greater, you can get your registration information sent to you immediately from the lost license page. 
For earlier versions, please contact us to obtain your licensing information.